Apr 14, 2014  | American City and County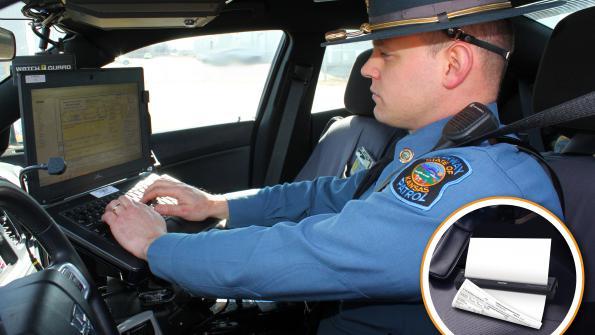 The Kansas Highway Patrol (KHP) monitors and manages traffic control and safety across the state's 900 miles of interstate roadways. To increase efficiency, accuracy and safety in issuing traffic tickets and incident reports, KHP equipped each of its 450 mobile patrol officers with Saltus Technologies' digiTICKET electronic citation software application and a Brother PocketJet 6 vehicle-mounted mobile wireless printer.
The software automates the way in which officers write up traffic violations and warnings using a Windows-based laptop computer. Once the data is entered, the printer generates a full-page paper copy of the citation for the violator, while the agency's copy is stored and transmitted electronically. Accident and crime scene incident reports and alerts can also be printed on full cut sheets, complete with text, graphics and photos.
Since its implementation in 2013, the e-citation system is now being used by county and city public safety agencies across Kansas. It gives municipal traffic patrol officers the ability to scan drivers' licenses from all over North America, capturing bar codes, photos and driver signatures. In addition, the system records GPS coordinates of each traffic stop and allows officers to make relevant notes.
According to KHP CIO Mark L. Thurman, the system can be interfaced with other technology-based solutions. Thurman worked with the contractors in coordinating the four-month rollout of the e-ticketing system and says the project came in on time and within budget.
"The time it takes for a trooper to issue traffic citations has been dramatically reduced, and the system has virtually eliminated data entry errors and reduced the state's administrative costs," Thurman says.
The automated ticketing system is integrated with the Kansas Law Enforcement Reporting (KLER) Justice Solution application suite, which Thurman also helped to develop. This application allows officers to capture citation data once, upload it to the server for download by the state's 105 district courts, then export vehicle and driver/passenger data into a multitude of law enforcement reports.  Reports are also transmitted electronically to the state's traffic and criminal data repositories and records management system.
Kansas offers its application suite to law enforcement agencies statewide, enabling the electronic transmission of data and documents between relevant local, state and federal agencies. The result is greater visibility and accuracy as information collected by the KHP and other traffic enforcement agencies flows upward throughout the KLER system.